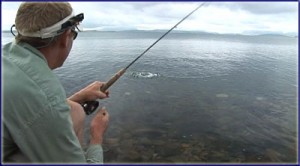 Touching Gold is the first fly fishing DVD filmed and produced by Rayno Egner of Safari and Film Africa. In association with Tourette Fly Fishing it transports the viewer to Free State's famous Sterkfontein Dam, regarded as one of the best sight fishing venues in Africa.
Although Sterkfontein was originally fished for Trout (and contains many other species including Bass and Largemouth Yellowfish) this DVD shares with us the magical experience of sight fishing for Smallmouth Yellows.
Anyone who's fished (or visited) Sterkfontein will be aware of the sheer size of this body of water as well as it's incredible clarity. It can be hugely intimidating to anyone new to the venue and this DVD goes a fair way in giving a few pointers in just how to tackle the mass of water that is Sterkfontein.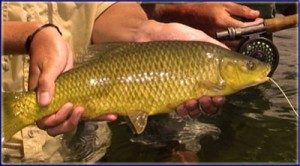 Fishing DVDs come in many shapes and sizes. This particular one does well to capture the experience of fly fishing Sterkfontein. It's not there to teach you how to do it; it's there to show you just how incredible the fishing at this pristine location is. That said there is plenty to learn here if you read between the lines and it was great to see their flies being rejected as often as mine are.
The DVD is brought to life with music by Goldfish and features awesome footage including dry fly takes, epic fights and some of the local scenery. There is also an abundance of underwater footage which adds a new dimension to the classic fishing film.
It certainly made me head for Sterkies.