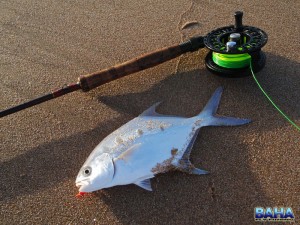 The Xplorer XPS-S Large Arbor Fly Reel is Xplorer's premium range of salt water reels. They're designed to have BIG FISH stopping power and having fished with the reel I would certainly stand by that statement.
Upon picking up this reel I was immediately impressed by the build quality. It is a fantastic looking reel which is CNC machined from bar stock aluminium. It has a black, hard anodized finish which means it appears as a slick black on your fly rod. I assume this comes from the good old days of fly fishing when reels were finished in black to make them less reflective and therefore prevent the reel from glinting which can easily spook fish. This may not be a huge issue in the salt (although some fish are still easily spooked) but I'm sure we'll all agree, black just looks slick.
This reel is highly resistant to the corrosion caused by salt water which means that, if cared for correctly, it should last you a lifetime. Cheaper reels don't always offer this same level of protection which means that you may well find yourself replacing your reel as often as annually (especially if you don't soak and clean it regularly), quickly making your cheaper reel more expensive.
The XPS-S is a large arbor fly reel which I consider to be almost essential in the salt where fish can make exceptionally long runs. "Large arbor" means that the the central arbor of the spool has a larger diameter than a standard reel. The most obvious benefit of this is that the reel can retrieve more line with each turn. This is essential when a fast fish, such as a kingie, swims directly at the angler forcing them to retrieve line quickly. Without a large arbor the angler may not retrieve line quickly enough which could easily result in slack line and a lost fish.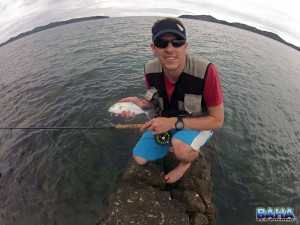 Some people are concerned that large arbor systems can result in lower line capacity on the reel. Thankfully the Xplorer XPS-S is slightly wider than normal which means that it holds more than enough backing for game fish. Below are the reels specs which I took directly off of the manufacturer's site:
| | | | | |
| --- | --- | --- | --- | --- |
| Model | Line | Weight | Capacity | Mass |
| XPS-S 8 | 8 | 8/9wt | 200yd 20lb | 266g |
| XPS-S 10 | 10 | 8/10wt | 275yd 30lb | 286g |
| XPS-S 12 | 12 | 12+wt | 300yd 30lb | 295g |
Other benefits of being a large arbor reel include:
Reduced line memory
More consistent drag
While we're discussing the arbor of the reel it is also worth mentioning the weight of the reel. Although it is not the lightest reel on the market I found that it balanced all of my salt water rods perfectly. Essentially this means it is neither too light nor too heavy. So why is this a good thing? Well light reels mean that your rod/reel setup will essentially be tip heavy. This places an excessive amount of strain on your wrist in order to control the heavy tip which may quickly fatigue the angler, especially if fishing for long periods of time. Similarly a reel which is too heavy can make your arm tired as you feel you require more power to load the rod. A well weighted reel (one which balances your rod well) is therefore essential.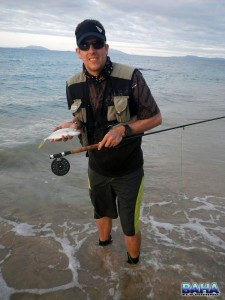 But as good as the large arbor design and weighting are, the most important aspect of this fly fishing reel (and perhaps of all salt water reels) is the drag system. The Xplorer XPS-S fly reel makes use of a disc drag system rather than a spring and pawl system, double spring and pawl system, or one of the other drag varieties. This means that Xplorer has done away with one way bearings which can easily fail, especially in the salt due to its corrosive nature.
The XPS-S disc drag makes use of a draw bar system to tighten and loosen the drag. This is protected by a screw which means that a screwdriver is required to both open the reel as well as to change spools. Some may find this a little annoying but in reality it is a safety feature stopping the angler from over loosening the drag or from accidentally removing the spool from the reel and dropping it overboard or into the sand. And since most of us fish with a Leatherman or similar, we've generally got a screwdriver on hand anyway.
On a personal note, the drag on the XPS-S is incredibly smooth and I have no doubt that it can slow even the angriest game fish without faltering.
If you're considering buying one of the cheaper salt water reels I highly recommend that you look at the drag system and ensure it's a disc drag system. Cheaper reels often use other systems which, as I mentioned earlier, can easily fail in the salt, especially on bigger fish. And although the majority of our coastal surf fish will easily be kept under control by one of these other systems, one of the magical aspects of fishing the salt is that you can hook into a bigger fish at any stage and, when this time comes, do you really want to risk losing it?
Before I finish here are a few side notes. The Xplorer XPS-S comes setup to reel right handed but it can easily be changed for people who prefer to reel with their left hands. It may also be useful to note that spare spools are available for those people who like to fish with various lines on a single rod and reel.
In summary the Xplorer XPS-S fly reel is a magnificent reel that will last you a lifetime and can contain any fish. If you're looking to buy just one salt water reel then this may well be the reel for you.