So after collecting my new rod from Xplorer I was keen to get it on the water to test out the much talked about T-50.
My first impression was WOW! A beautiful carbon rod tube coated in a neoprene sock was handed to me by Xplorer, inside was a 4 piece, 9wt wrapped in a rod cloth.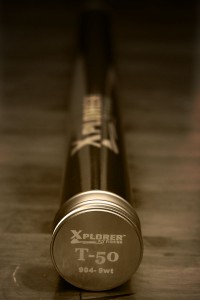 Xplorer have really outdone themselves with the T-50. It's built on premium Japanese, high modulus carbon blanks which have ultra-fast tip actions and the grip is crafted from premium grade cork. The saltwater models have Alps Triangle anodized aluminium reel seats while the freshwater models have CNC machined, up-locking fittings with natural burl inserts. The eyes on the rod are REC recoil stripper guides with REC recoil Snake guides on saltwater models and REC recoil single foot guides on the freshwater models.
Attention to detail is what sets the T-50 apart from other "high-end" rods on the market today. Each section has a marker on it to align the sections quickly and perfectly every time. The reel seat locks have rubber O-rings to stop the locks coming loose and the cork handle has been machined to perfectly fit your hand. As for the finish, well words can't describe it – absolutely stunning!
Right, now that the formalities are done, I have paired my 9wt T-50 up with Xplorer's XPS-S 8/9wt Bonefish saltwater reel. This rod is perfectly balanced with this setup and should be more than capable of stopping any bus found alone our coastline.
Nine out of ten times I fish with an intermediate line on my reel (due to our conditions in Kzn) but the T-50 will throw any line with ease, and this is where the T-50 shines. Even in a howling wind you can effortlessly cast a full line without exerting much energy to generate the power – the rod does it all for you.
The key is the way this rod loads itself, best described as a composite bow. Pull back and fire!
I do feel that some beginners may have an issue casting with such a stiff rod as the timing is critical to achieve the rod's optimal performance. That said most people who purchase this rod can cast and it will only take them a few casts to understand the dynamics of it.
The T-50 did take me a few minutes to get used to after fishing with my Xplorer 5wt Guide II, merely because of this ultra-fast action.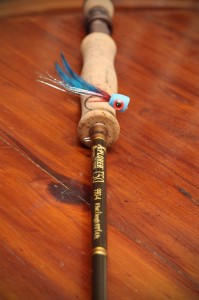 Once into a fish the T-50 again shines. It has enough give that you always feel connected to the other end of the line, but still has the backbone to tackle bigger fish. This is unlike some of the broom sticks on the market that have no give and end up costing you fish when fishing with lighter tippets.
In summary the T-50 is a great all-rounder. It can used to catch Bass at Inanda on big poppers, tigers with deceivers and will even handle offshore trips for dorado or couta. It is an extremely versatile piece of equipment that I am certainly happy to have in my arsenal for when those busters come through and you still want to fish.
Xplorer have bought in a selected range, all in 4 piece for easy travelling:
| | | | | | |
| --- | --- | --- | --- | --- | --- |
| Model | Cork Grip | Line Weight | Length | Sections | Rod Weight |
| T50 794.2WT | A | 2wt | 7′9″ | 4 | 70gm |
| T50 904.5WT | A | 5wt | 9′0″ | 4 | 86gm |
| T50 904.6WT | A | 6wt | 9′0″ | 4 | 86gm |
| T50 904.9WT | B | 9wt | 9′0″ | 4 | 137gm |
And let us not forget about Xplorer's "No Fuss" warranty. Enough said!
For more information, or if you have any queries, drop us a mail at info@bahaflyfishing.co.za