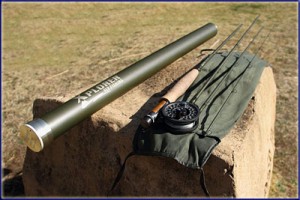 On first viewing this rod I was taken aback by the sheer beauty of the construction of the rod tube. It is made out of carbon fibre and has machined and polished end caps giving you a feeling of class. Unscrew the top cap and you pull out your four rod sections wrapped in a cloth sleeve.
The rod is constructed using Xplorer's XP7 modulus graphite blanks, pac bay eyes and a lightweight aluminium up-locking reel seat with a high quality cork handle.
I paired the rod with the Rio Mainstream intermediate, weight forward line and the Xplorer Eclipse 4-6wt reel. This combo I feel gives the rod a good balance.
The rod action is medium to fast and can effortlessly cast a full line even in the wind. I feel the Xplorer Guide II has enough "backbone" for the bigger fish, even Yellows and Bass, to be a good "all-rounder", fresh water rod.
On concluding this work of art we need to mention Xplorer's "no fuss warrantee" – they will repair or replace any rod section should it be defective in workmanship or material at no charge except for R170 for postage (provided you yourself have sent in the warrantee registration card which comes with the new rod).
This is by no means an entry level rod as it can stand up to many major competitors out there. The difference for me is the no fuss warrantee, and I personally love it.
Further Information:
The Xplorer Guide II rods are available in 3, 4 and 8 pieces.
The saltwater models have a triangle taper, up locking aluminium reel seat that with a protective gun smoke anodized finish.