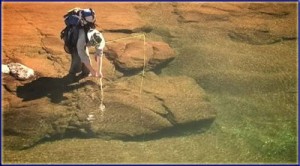 Following on from Touching Gold, Safari and Film Africa take us on a journey through the beautiful and remote Lesotho highlands in search of the countries large, elusive and very wild Trout. SFA'a unique style can be seen throughout the DVD and is easily recognisable if you've previously watched Touching Gold.
I find that fly fishing DVDs tend to come in two main formats; those which try to teach you something and those which share an experience with you. This DVD certainly falls into the second category and leaves you wishing that this was an experience you were part of.
Tourette Fly Fishing guides are seen stalking both wild Rainbow and Brown Trout in the crystal clear streams of the Lesotho Kingdom. Throughout the DVD you are shown the landscape, living conditions, fish, and most importantly…how they prefer their Two Minute Noodles cooked.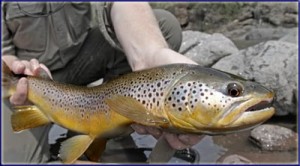 This adventure across the Roof of Africa is achieved on horseback and certainly gets the juices flowing in the more adventurous fly fisherman. What better way to fish the country than by hiking the rivers, sleeping under the stars and forgetting where the nearest TV or cell phone tower is located.
There is some fantastic camera work both above and below the water, and this is heighted by the joy of watching dry flies being smashed off the surface by eager, yet cautious, fish.
I was left with a definite realisation of what makes Lesotho special; its a land or rugged beauty with rivers unseen by most fisherman and water which a fly has probably never touched. The fish are larger than most of the river Trout found in SA thanks to their larger, cooler and cleaner waters. These are fish we should all try to catch.
So whether you want to experience Lesotho without leaving your chair or if you're planning a trip and just want to see what you're in for, this is the DVD for you.