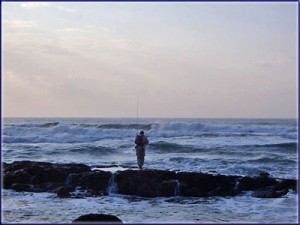 The 26th of August saw the first DFT saltwater outing run by myself and Baha Fly Fishing.
I was a bit apprehensive on Saturday when a huge buster came through and really turned the surf upside down. I was unsure as to the number of attendants, but thankfully on Sunday morning no less than 10 guys pitched up with rods in hand.
After kitting up the guys made their way down to the beach and headed off in various directions. Some guys opted to fish the gullies and pools to the south, while a handful of guys walked north to fish the deeper waters along the beach.
Conditions were far from ideal with the massive shore break and lots of seaweed off the beach. Nevertheless some stone bream did come out on a Crazy Charlies thrown into the white water next to the rocks, although everyone was secretly hoping to hook into Shad as that was the general idea of this outing.
It was great to see such a huge attendance and hopefully we can keep the ball rolling for future outings that we have planned.
The next outing is planned for the end of September and we are going to be hitting Durban Harbour.