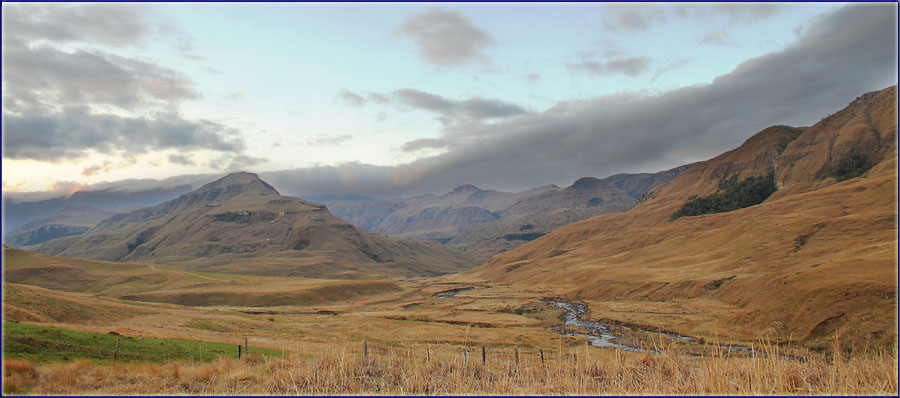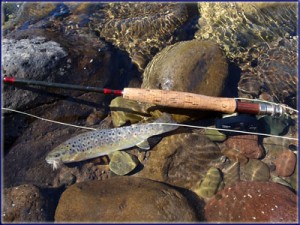 Lotheni is most notably known for its beautiful scenery and many hiking options for people of all ages and abilities. That said, for us at Baha Fly Fishing, its known for its wild Brown Trout, Sime's Cottage and technical stream fishing.
The fly fishing at Lotheni (mostly) takes place in the Lotheni River which runs below both the main camp and the camping site. It contains a healthy population of wild Browns and is in my opinion rather technical as the Browns seem far more skittish than those in the popular Bushman's River at Giant's Castle. The river is of course only open during the standard season running from the 1st September to 31st May.
Although one can fish outside of the reserve there is more than enough water within (16ksm to be precise) to not worry about leaving the Lotheni Nature Reserve. The stretch from Cool Pools to the swing bridge at main camp contains some beautiful long, deep pools and fishes well with a nymph. Fishing upwards from the camp to the campsite the water contains more runs and riffles and is perfect for the dry fly. The stretch above the campsite is equally as beautiful but requires some bundu-bashing to get back to camp (which may put some people off). And finally there is a nice stretch from the entrance (and museum) up to Cools Pools, but I myself have never fished this section.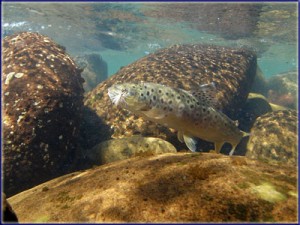 Lotheni Nature Reserve also offers a small dam at Sime's Cottage which I believe is stocked with both Brown and Rainbow Trout and is only open to those staying in the cottage. Having not fished this dam myself I cannot comment on how well it fishes or what works here. It does however look like it may be decent for a quick throw in the evening (if you're bored), but being at Lotheni, one really should be wading the river.
Lotheni is located roughly 50kms from the nearest town (between Nottingham Road and Underberg) of which 40kms will be on dirt. At the time of writing the stretch from Underberg was in far better condition than the stretch from Nottingham Road. That said both are doable in standard cars as long as one drives carefully.
I would however recommend going through Underberg in normal cars and through Nottingham Road in bakkies and 4x4s. I say this since the Nottingham Road route is slightly shorter and far more beautiful. Plus it comes with the benefit of passing the Bierfassl and Nottingham Road brewery on route.
For those not fishing Lotheni offers a number of hikes of various difficulties. One of the longer walks, the Emadundwini Trail, is a circular route of around 12kms. It offers spectacular views of the Drakensberg, several small stream crossings and includes travelling up a steep incline.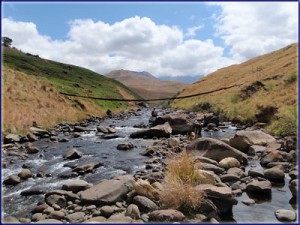 Jacobs Ladder is one of my favourite walks and is roughly 4kms long (2km out, 2km in). It's an easy walk along contour paths to a beautiful cascading waterfall perfect for picnics and swimming (for the brave). It's also an ideal walk for kids and the less fit hoping for some inspiring scenery.
Other trails include the Eagle, Falls, Canyon and the historically interesting Gelib Tree trail. For more information on the hiking available see the Lotheni hikes website.
Besides fishing and walking, Lotheni also offers good bird watching (with over 172 species), mountain biking and some beautiful swimming in the Lotheni River at Cool Pools which is located just 1km outside of camp.
As far as accommodation goes, Lotheni has various options from chalets to camping, and two cottages.
The main camp consists of 12 thatch chalets which are old, but maintained. They each contain 3 single beds in a large room containing a gas heater, fireplace and a small dining room table. There is also a small kitchen with gas stove and fridge and a bathroom and toilet (again heated by gas). Electricity is available from 5pm – 10pm but this is no guaranteed. There are no plug points in the rooms so although you may have light, you certainly won't be charging your cell phones. Bedding, cutlery and crockery is provided; you will however need to take your own towels.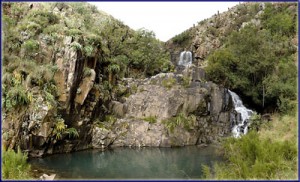 The campsite is located 2kms from the main camp and contains 14 camp sites (without electricity) serviced by an ablution block with both hot and cold water. They have planted a small tree on each site which they hope will one day provide shade, but for now its best you take your own in the form of a good gazebo capable of holding up to unexpected Berg storms.
Next to the campsite is a small cottage which I believe they've named the Fisherman's Cottage. It is by far the most rustic of the accommodation and very little is known about this secretive venue, so it's best that you enquire about it yourselves. Having peaked inside, this venue certainly looks like its equipped for men only, or perhaps the braver of the ladies.
Simes Cottage is a rustic cottage 4kms from camp complete with a small private dam. As far as I'm aware if does not have electricity but does come with gas appliances so one will have warm water, a refrigerator and a stove. Visitors will need to provide their own sheets, pillows slips and towels.
Finally the camp does offer a small curio shop which also sells a few necessities, but as with all Ezemvelo stores, I wouldn't rely on this two heavily.
Up to date prices are available on the Kzn Wildlife website (http://www.kznwildlife.com) but at the time of writing day visitors payed R25 per adult to enter the park (there is a picnic site at the entrance). Fishing costs R50 for the river and R70 for the small dam. Simes Cottage is a fixed fee of R1800 and sleeps 10. The 3 bed chalets cost R215 per person and camping is around R70 per person.