Columbia Bahama II Long Sleeve Shirt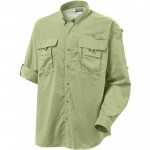 Over my many years as a fly fisherman I've gone through piles of fishing shirts. That was until I came across the Bahama II by Columbia Sportswear. It is without a doubt my absolute favourite fly fishing shirt and I now have several in my cupboard.
Although it does come in a short sleeved model I tend to stick to the long sleeved version to protect me from the sun. Thankfully this shirt succeeds in keeping me cool in even the hottest conditions thanks to the fabric and ventilation which is located around the arms and shoulders. It is of course also quick drying which proves useful in both hot and rainy conditions.
This shirt is made out of 100% nylon which not everyone enjoys, so if you're a believer in cotton you made need to look at other shirts in the range.
It's a loose fitting shirt so you may need to get a size smaller than normal.
Columbia Cool Creek Mesh Vest
I fish in this fly vest often and must say I'm on a whole I'm hugely impressed with it. It's light weight meaning I don't notice it and the mesh keeps me cool when fishing in warmer environments. The vest also fits snuggly which means it doesn't get in the way when I'm casting and moving around. It also has ample pocket space to keep my kit neatly organised so that it's always easy to find. The large pocket on the back is also perfect for carrying a lightweight jacket and even a few light snacks if need be. The vest also sports a rod holder which I've not yet made use of and a D ring on the back which is perfect for carrying a net with a magnetic holder.
The only thing I would change is the double zinger for accessories. This is the perfect tool for holding my clippers but, being left handed, I would've liked the option to move this to the other side of the vest.
All in all this is a fantastic product that I would recommend to any fly fisherman out there.
Columbia Raintech Jacket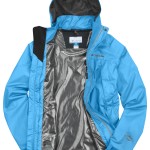 Being a trout fisherman in Durban I often find myself in the cold, misty conditions of the Drakensberg. These conditions call for a warm, fully waterproof jacket that doesn't hamper my fishing. Thankfully the Columbia Raintech jacket provides just this.
Thanks to the omni-heat technology its warm in the coldest conditions. However despite this it also breathes well and offers zip-able vents should conditions warm up. It is of course fully waterproof with a draw string to seal the hem and straps to stop water running up the arms. There is also a hood which rolls into the collar to keep it out of the way.
Other features include an interior security pocket and the Columbia interchange functionality which makes it compatible with other Columbia clothing.
I can't say it enough, this jacket is absolutely fantastic!
Columbia Tubezilla Board Shorts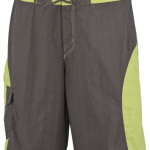 On a recent trip to Madagascar I took two pairs of these board shorts with me, which is essentially what I lived in for two weeks (day and night). They are quick drying, as one would expect from any pair of board shorts, but the fabric feels a lot tougher and more robust than most. They are also incredibly resistant to dirt and looked clean despite me wearing them for days on end. I found these board shorts more comfortable than most and loved the tying system used to tighten the board shorts. Another feature I loved was the size of the pocket. Most of board shorts have either no pocket or a really tiny one. These however came with a decent sized pocket that fitted my waterproof camera perfectly. The bottle opener and key holder in the pocket were also incredibly useful.
The only downside to these board shorts is the velcro in the fly area. Once this is wet it is not as effective as when it is dry and can open unexpectedly. Due to the design this is however not a problem.