Saturday morning got off to an early start as I headed down to Clifton Gardens to lead one of Frog Dive's shore dives. It was a beautiful morning, with an orange glow coming off the sun, not a cloud in the sky, and absolutely no wind to speak of. The sea was dead flat, and judging from the surface, visibility looked good for Clifton Gardens.
I was expecting 7 divers, but the group grew to 9 when the shop's boat dive was cancelled due to poor conditions. Thankfully Cec had offered to help out, and arrived shortly after me. The group group geared up in the parking lot, and once everyone was ready, I gave the dive briefing around one of the many tables scattered around the field. I opted to split the group into 2 smaller groups, with Cec taking one group, while I took the other.
My group headed out first. We started off by exploring the sunken statues, which have more and more life on them every time I go down. The Easter Islands head had fallen over, which was sad to see – hopefully someone rights it again. We then made our way over the sea horse hotels before meeting up with the nets at the southern end of the bay. We followed the nets back to the main body of the wharf, looking out for seahorses as a few of the divers in the group had never seen them. We found the usual nudibranchs, luderick, leatherjackets, goatfish, octopus, and more – but no seahorses.
We then met up with the other group under the wharf, where we found an incredible dwarf lionfish, as well as moray eels, flutemouth, and finally a seahorse. I could see the smiles, even underwater. But for me the real treat was finding a blue-ringed octopus just before ending the dive. It was a the first one I'd seen, and a very unexpected find since they usually only come out at night.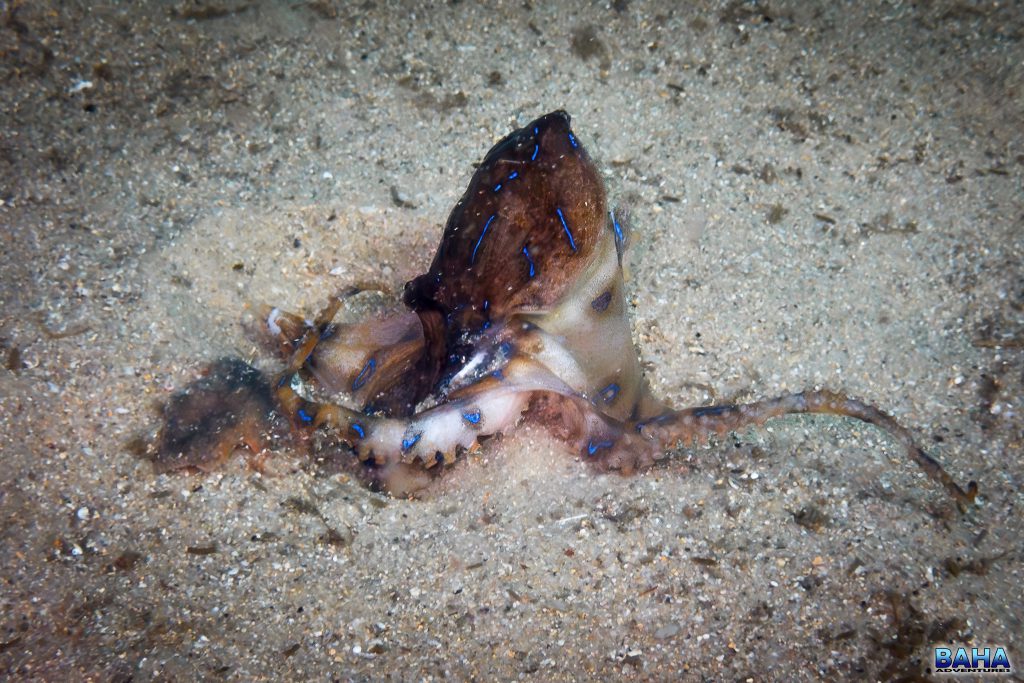 Back at the car we chatted about the dive over coffee and soup, before heading home to watch the Matildas take on Sweden. What a great way to start the weekend.