Poor planning meant that most holiday parks were fully booked long before we started planning our 3 nights of camping bliss. Thankfully we found space at Budgewoi Holiday Park, which we'd stayed at before, but was worth another visit.
Our previous trip to Budgewoi, earlier in the year, had been with my mom and we'd stayed in the deluxe bungalows. This time however, we decided to "rough it". I say "rough it" since our camping setup included a coffee machine, fridge, and a large canvas tent, so there was very little roughing it involved. In fact, I'd definitely refer to it more as glamping than camping.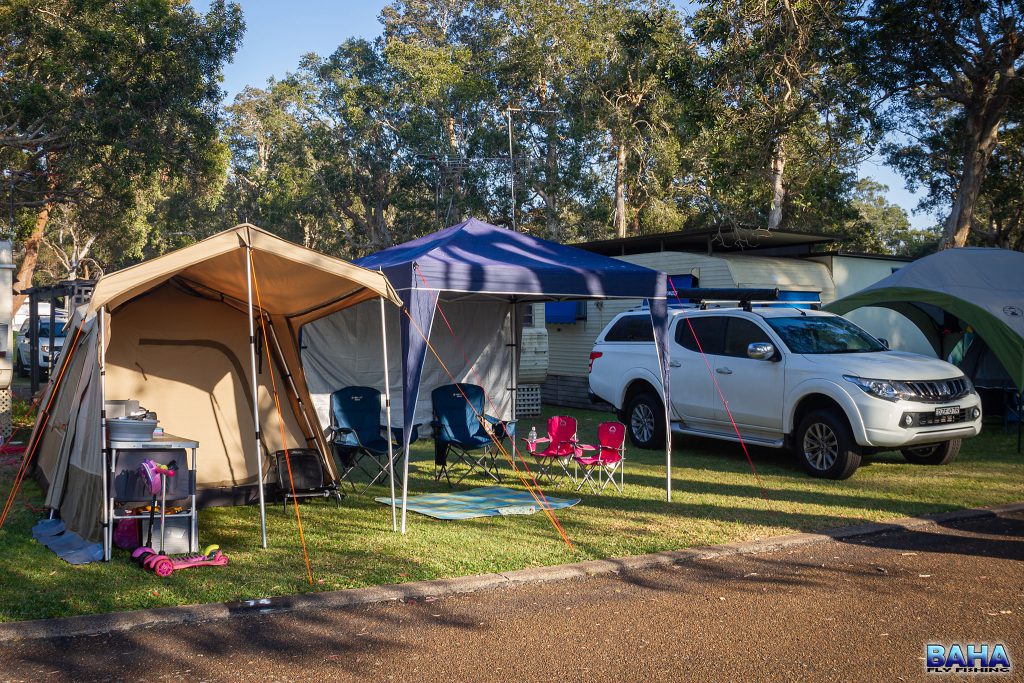 The campsites at Budgewoi were fairly standard for Australian holiday parks in that they were small and close together. That said, they were well maintained, and relatively close to the water, which is what I cared about. Our site also came with a beautiful tree, which provided us with some great shade for the majority of the day. Each site also came with a power point, as well as a tap, and were clearly demarcated. The main downside was that there was only a single camp kitchen, and fewer toilet blocks than most other holiday parks, meaning we had further to walk to do the dishes or go to the bathroom.
Camp took us around an hour and a half to setup, and then we got down to having some fun. The next day and a half revolved around family, with lots of time spent at the beach and pool, on the bouncing pillow, and getting involved in the various activities the holiday park organised.
And then Sunday morning arrived, which was all about fishing for me. I launched my kayak just before 7am, and paddled through the thick ribbon weed, into the the main channel of Lake Munmorah. I began the day by targeting bream in Budgewoi Creek. Despite some promising structure this proved to be unsuccessful, perhaps due to the VERY dirty water.
I then moved on to plan B, which involved targeting tailor and flathead in Budgewoi Lake. I switched my small, brown Crazy Charlie for a larger, chartreuse Clouser, and paddled through the channel into Budgewoi Lake, which was a lot cleaner, bolstering my confidence. I initially fished the drop offs, focusing on areas with underwater structure, in the hope of getting some tailor. I had one small bump as I pulled my clouser from shallow water into the deeper channel, but sadly didn't connect with the fish. From the channel I moved into the shallows, hoping to locate some flathead. I targeted the edges of the weed beds, but didn't get so much as a bump for my efforts.
I did try throwing around a soft plastic, to see whether that would perform any better, but received similar results – nothing!
Eventually I called it a day, and started the paddle home. On route I was passed by a police boat, trailing the biggest wake I've seen in my life. Thankfully the Hobie handled it with ease, and I survived the large waves of doom.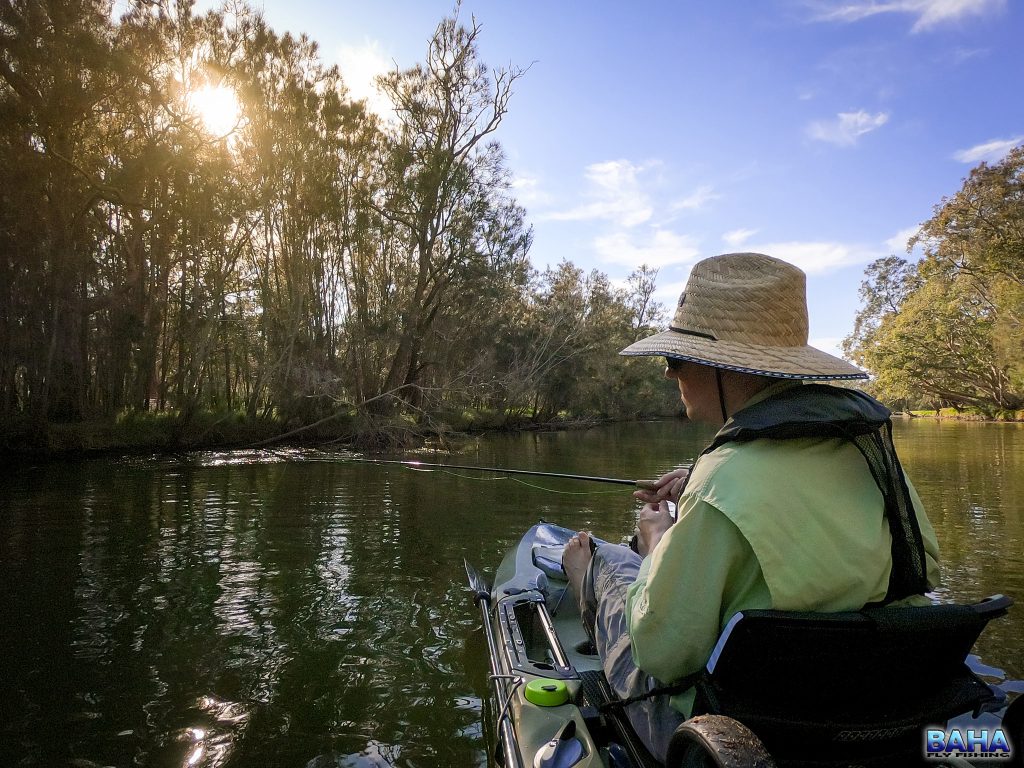 Back at camp I cleaned my equipment, and packed it away. That was it for my Budgewoi fishing.
While we had a great time, I'm not sure we'll head back to Budgewoi anytime soon. The campsite was great, and the staff were friendly, but the fishing didn't blow my socks off, and there are so many other great venues we are yet to explore.