So after a very successful Midmar trip the Baha Boys decided to give the salt a bash before they parted ways to their various holiday destinations. The location was Durban Harbour.
Warren arrived at my place at 04:15, hooked up the boat and we made our way down to the bay. The weather was as humid as hell (even at 4am) but thankfully we had our Columbia Sportswear shirts on to sort that out.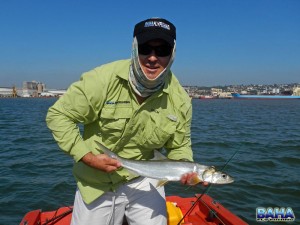 Arriving at the bay just before sunrise we eagerly kitted up and launched the boat. After having great success at the Silt Canal we made our way up to it, stopping along the way to fish the drop off at various points and to test out the newly acquired fish finder.
As we got closer to the Silt Canal it was evident that the recent rains had taken their toll on various trees. The sand banks were littered with debris from the flooded rivers. That said the trees provided place for two Fish Eagles to perch.
As we entered the canal the water went from aqua green to milkshake brown. Nevertheless we fished it for a good hour or so without any activity and decided to move to cleaner water.
On our way back a tug boat was doing about 100mph in the channel which made a wake of 30ft, well not that big but you get the idea. After navigating the first two swells well the boat nose-dived and completely flooded the deck! This needed urgent attention and the two of us set out getting all the excess water out of the boat.
Finally, with the boat empty, we made our way to the northern most point of the sandbanks and fished the drop offs were the water was much cleaner. We drifted past a few fishermen who had also caught nothing. We pulled flippers on the surface and various patterns sub-surface with no luck. With the wind picking up we opted to anchor on the drop off at Location X, and what a great decision!
Warren continued to fish on the surface while I tried every fly in my box but one, the least likely fly, the infamous gurney fly. Whist I was tying it on I was mocked by Warren and told that gurneys would be minus points. I chose to ignore the ridicule as any fish was better than nothing.
On my first cast the fly was smashed, the line tightened up and went slack! Strange, I thought, only to find I had been bitten clean off. So a after a quick tippet change my last gurney fly was tied on much to Warren's disapproval. Again I wasn't feeling too confident in my fly as we were in deep water. A cast in the same direction as last time resulted in the fly "snagging", but this time the snag pulled back.
All hell broke loose line and backing peeled off my reel as if I had hooked into a scowled cat. And then we saw it, a decent size springer leapt from the water trying to throw the hook.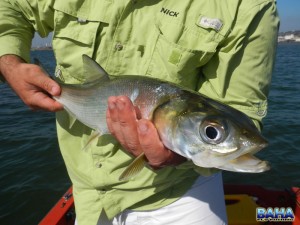 All of a sudden there was a mad rush to get lines out the water and lift the anchor before the fish could use it to his advantage and smash me off. After an epic battle and many long runs I landed my trophy. We were in high spirits after we finally landed the infamous springer of Durban harbour.
After a few photos the fish was released to fight another day. Warren, by now green with envy, scratched out his gurney weapon and switched to a sinking line too. We fished for about 5 more minutes when again my line started screaming off my Xplorer reel. This time my 5wt Xplorer Guide2 was bent straight by another springer, but sadly this one had a long line release before we could see it.
Unperturbed I put in another long cast. BANG! ON DAD. Another springer. By now Warren was cursing so badly his family would have disowned him. This time I got the fish to the boat after an epic battle only to be denied a photo when it rolled over and dislodged the hook.
Warren fumingly demanded to see my fly. He then fished at the back of the boat thinking I was in the "spot".
I had a quick Monster, changed the tippet, and got straight back into the action. This time I got stuck into a very feisty needlescale queenfish. I was adamant Warren was going to commit mutiny so I kept the mocking to an absolute minimum. I then offered my Xplorer rig to him to bag a fish or six but only received abuse.
As we were nearing our agreed time limit my line went tight again. This time Warren cursed me by saying, "I hope that fish bites your fly off" – Well that is exactly what happened, my line was retrieved with no magical fly. My heart sank, Warren was quiet. Deep down I think he was feeling bad. After that, no matter what we threw into the water, it was denied.
We then drifted for the next hour before calling it a day. In terms of our harbour trips this was by far the most exciting and exhilarating outing. Perhaps we were just lucky, well I was at least. We slipped the boat, tied it down and headed to Café Fish for a delicious lunch with the wives before making our way home.
Just a foot note: I fished with the Xplorer T-50 with a huge flipper. Man can that rod cast into the wind! We will have a full review of it shortly on Baha Fly Fishing. Read about the Guide II here.
For any information or product reviews contact us on reviews@bahaflyfishing.co.za
Till next time. Tight lines